Monday, 05 February 2018 16:07
Sunday, 04 February 2018 10:46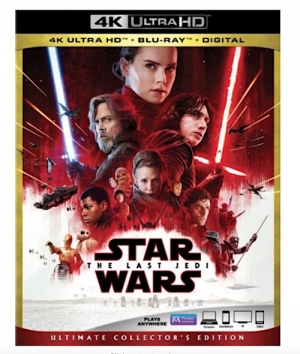 This is just a quick Super Bowl Sunday post here to bring you news that Best Buy is now running ads that reveal the street date for Disney and Lucasfilm's Star Wars: The Last Jedi on Blu-ray, DVD, and 4K Ultra HD. The date is 3/27, just as we've said here at The Bits for weeks now. It seems reasonable to assume that the official announcement by the studio is close, so stay tuned.
Thanks to Bits reader Bryan Pistole for the art. Continue on below the break to see it for yourself. [Read on here…]
Friday, 05 January 2018 15:37
Afternoon, folks. We're sure many of you are looking forward to the first weekend of the new year today, and we're also gearing up for CES next week here at The Bits, so we'll make this quick today.
First of all, in 4K release news, Paramount has set Daddy's Home 2 for release on Blu-ray, DVD, and 4K Ultra HD on 2/20. They'll have the original Daddy's Home available on 4K that same day. [Read on here…]